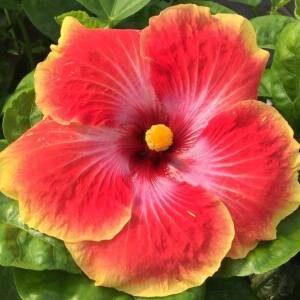 We are having a Winter Virtual E-Mail Plant Sale like
the one we had this Summer.  We are extending
an invitation to anyone who hears about the sale
and wants to order plants.  The grower has some
rules about ordering.  All orders need to be
received along with your payment by Thursday,
October 15, 2020, when the plants will be ordered
and grown specially for us by Sunfire Nurseries.
Plants will be available for pick-up Saturday, Jan 16, 2021.
You may also order 50# bags of Hibisgain fertilizer
for $ 40.00 a bag, or 2# bags of Hibisgain for $ 8.00 a bag.
Plant Order Forms will be e-mailed to everyone on our
past and present Membership List.  Anyone else who
wants to order from our E-mail Plant Sale can get a
"do it yourself" order form from our website at:
www.hendrychapterhibiscus.com   by scrolling
down to the bottom of the home page to the most
recent Newsletters, and clicking on the
"2021 Email Plant Order form".   Bloom photos for
this sale are also on the home page of our website:
at  " www.hendrychapterhibiscus.com ".
Click on "Hibiscus"   and     "Year – 2021"
on the yellow bar near the top of the home page.
Hover your mouse over the bloom photo and the
plant name will appear in white through the bloom.
Everyone will need to get their order in the snail mail
so it is received by Charlotte Harff at:
1301 S.E. 20th Ct.,  Cape Coral, Florida  33990
on or before Thursday, October 15, 2020,
with a check for the total due made payable to:
A. H. S. (American Hibiscus Society).   Orders
may also be emailed to charlotteharff@comcast.net
by the deadline date, of October 15, 2020.
Payment may be made by credit card by calling
Charlotte Harff at (239-222-7038).
All plants will be sold for the price of:
$10.00 each for all 4″ plants, and
$25.00 each for all 3 gallon plants.
Our Winter Sale plants will be available
for pick up on Saturday, January 16 2021,
at the home of Jack Bernatz and Charlotte Harff;
1301 S.E 20th Ct, Cape Coral, Florida  33990
between 1:00  and 4:00 pm or until all plants
have been picked up.
Happy Plant Ordering, and
Thank you for joining in the winter plant sale,
Charlotte Harff and Jack Bernatz