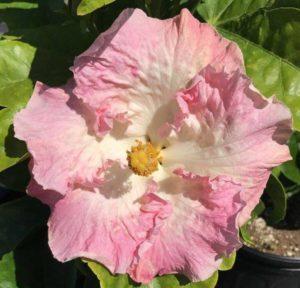 We are having a Winter E-Mail Plant Sale like the one we had in Summer.
We are including anyone who hears about it and wants to order some
hibiscus plants.  The grower has very strict rules about ordering.
You have to have your order into us with your payment by
October 15, 2020, and plants will be available for pick-up on Jan 16, 2021.
Plant Order Form will be emailed to everyone on our Membership List,
and anyone else who hears about our E-mail Plant Sale and wants to Order.
Anyone can get a plant order form by email request from:
barbaraamo@earthlink.net   (or)  charlotteharff@comcast.net.
We will have the bloom photos on our website:
www.hendrychapterhibiscus.com   under the heading "Hibiscus"
"Year 2021" Hover over the bloom photo and you will see the plant name
appear through the bloom.  Everyone will need to get their order in the mail
with a check for the total made payable to:
A. H. S. (American Hibiscus Society)
All Plant Orders will need to be received and paid for by October 15, 2021.
You can either send a check with your order, or you can pay by a credit card
to either Jack Bernatz (239-738-3796) or Charlotte Harff  (239-222-7038).
Plant orders can be mailed to:
Charlotte Harff, Treasurer AHS,
1301 S.E. 20th Ct.,  Cape Coral, Florida  33990
If you think your order or check may not get to Charlotte on time,
email your plant order to:  charlotteharff@comcast.net
and call Charlotte to put your payment on a credit card.
All plants will be sold for the price of:
$10.00 each for all 4″ plants, and
$20.00 each for all 3 gallon plants.
Our 2021 Winter Plant Sale plants will be available for pick up on
Saturday, January 16 2021
(Plant pick-up will be at Jack Bernatz and Charlotte Harff's home),
1301 S.E 20th Ct, Cape Coral, Florida  33990
Plant Pick-up will run between 1:00 to 3:00 pm or until all plants are gone.
Watch for 2021 Plant Bloom Photos on our website:
www.hendrychapterhibiscus.com